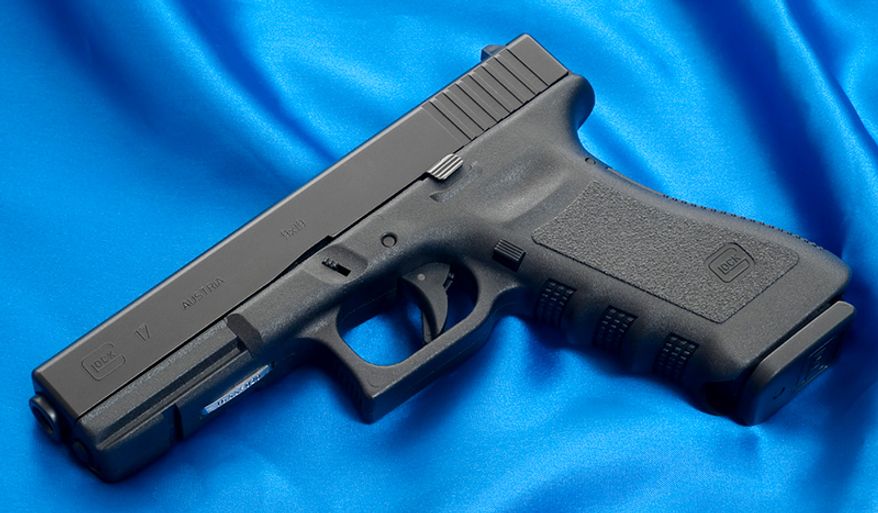 GLOCK 17- A polymer-framed, short recoil operated, locked breech semi-automatic pistols designed and produced by Glock Ges.m.b.H., located in Deutsch-Wagram, Austria. It entered Austrian military and police service by 1982. Despite initial resistance from the market to accept a "plastic gun" due to durability and reliability concerns, and fears that the pistol would be "invisible" to metal detectors in airports, Glock pistols have become the company's most profitable line of products, commanding 65% of the market share of handguns for United States law enforcement agencies as well as supplying numerous national armed forces and security agencies worldwide. Glocks are also popular firearms amongst civilians for recreational/competition shooting, home/self defense and concealed/open carry.
COLT 1911A1 .45 ACP-The M1911 is a single-action, semi-automatic, magazine-fed, recoil-operated pistol chambered for the .45 ACP cartridge, which served as the standard-issue sidearm for the United States Armed Forces from 1911 to 1985. It was first used in later stages of the Philippine-American War, and was widely used in World War I, World War II, the Korean War, and the Vietnam War. The M1911 is still carried by some U.S. forces. Its formal designation as of 1940 was Automatic Pistol, Caliber .45, M1911 for the original Model of 1911 or Automatic Pistol, Caliber .45, M1911A1 for the M1911A1, adopted in 1924. The designation changed to Pistol, Caliber .45, Automatic, M1911A1 in the Vietnam era. In total, the United States procured around 2.7 million M1911 and M1911A1 pistols in military contracts during its service life. The M1911 was replaced by the 9mm Beretta M9 pistol as the standard U.S. sidearm in the early 1990s, but due to its popularity among users, it has not been completely phased out. Modernized derivative variants of the M1911 are still in use by some units of the U.S. Army Special Forces, the U.S. Navy and U.S. Marine Corps. Designed by John Browning, the M1911 is the best-known of his designs to use the short recoil principle in its basic design.
SIG P226 – a full-sized, service-type pistol made by SIG Sauer. It is chambered for the 9×19mm Parabellum, .40 S&W, .357 SIG, and .22 Long Rifle. It is essentially the same basic design of the SIG P220, but developed to use higher capacity, staggered-column magazines in place of the single-column magazines of the P220. The P226 itself has spawned further sub-variants; the P228 and P229 are both compact versions of the staggered-column P226 design. The SIG Sauer P226 and its variants are in service with numerous law enforcement and military organizations worldwide.
CZ 75-a pistol made in the Czech Republic that has both semi-automatic and selective fire variants. First introduced in 1975, it is one of the original "wonder nines" featuring a staggered-column magazine, all-steel construction, and a hammer forged barrel. It has a good reputation amongst pistol shooters for quality and versatility at a reasonable price.
SMITH & WESSON MODEL 60 – a 5 shot revolver that is chambered in either .38 Special or .357 Magnum calibers. It was the first revolver produced from stainless steel.
BROWNING HI-POWER- a single-action, semi-automatic handgun available in 9mm and .40 S&W calibers. It is based on a design by American firearms inventor John Browning, and completed by Dieudonné Saive at Fabrique Nationale (FN) of Herstal, Belgium. Browning died in 1926, several years before the design was finalized. The Hi-Power is one of the most widely used military pistols in history, having been used by the armed forces of over 50 countries. The Hi Power name is somewhat misleading and alluded to the 13-round magazine capacity; almost twice that of contemporary designs such as the Luger or Mauser 1910.